This past week Oliver and I went to Tennessee with my parents to visit Gigi. It was a great trip and a much needed visit with my granny. Oliver was great on the car ride there and back and an excellent sleeper while we were there. I couldn't ask for a better behaved two year old! We went fishing this trip which was a little out of the norm of what we usually do but it was a blast! Hopefully that will become a new tradition. We went shopping one day, Oliver played in the water another day, and we got to visit with Brian and Melanie. All in all it was great trip and I'm so thankful I was able to go.
-- Maggie
He touched the catfish and immediately licked his fingers. Ick! Such a boy!
He loved playing in the water. I gave up trying to keep him out of it. :)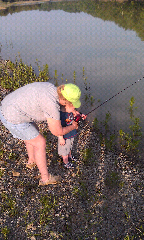 Oliver fishing with his Gigi
I only caught two fish. The smallest and the biggest. My dad thought he was probably 7-8 lbs. :)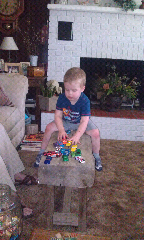 I'm pretty sure he would spend all his time playing with hot wheels if he could.
He loved playing in the water!
That is one worn out little boy.